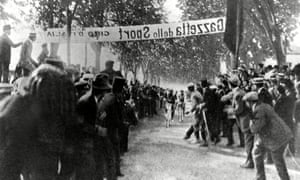 Today the 100th Giro ends in the same place where it all began back in 1909. On the 13th of May 127 riders set off at 2:53 from outside the Gazzetta dello Sports headquarters in Milan to tackle eight stages over a total distance of 2448 km. This is the story of he first Giro d'Italia.
Two riders were expected to compete for victory in the inaugural Giro d'Italia. They were the Italians Luigi Gana and Giovanni Gerbi who had excellent one day race pedigree but hadn't done much stage racing. The organisers of the race would have loved an Italian to win but the start list also included former Tour de France winner Louis Trousselier and current Tour champion Lucien Petit-Breton.
The stages were going to be incredibly long, with some lasting over 14 hours for the best riders, but they would have at least one rest day between them. The race would be decided by a points system rather than time elapsed. It was thought that doing things this way would discourage riders from cheating to gain time on their rivals. A points based system was also much cheaper and easy to run. The rider who won the stage got one point, second place got two and so on. So after eight stages the man with the fewest points would be the winner. Other means to help ensure a fair race included checkpoints along each stage where riders would have to sign in to prove they were cycling along the whole route and photographs that were taken at the start and finish lines. They would be compared by judges to make sure ringers weren't used by riders not keen on cycling the whole route.  The riders would either part of a team or be racing as independents (riding for themselves) and all but five were Italian.
The first stage set off from Milan and would eventually end in Bologna, a massive 397 km later. After only 2 km the Giro suffered from its first mass crash, probably not surprising as it was the middle of the night and streetlights weren't what they are now. Giovanni Gerbi was the worst affected, his back wheel and fork were damaged but he was able get a mechanic at the local Bianchi shop, which had opened late to celebrate the start of the Giro, to repair his bike and eventually rejoin his rivals. This wasn't the Tour de France where the tough taskmaster Henri Desgrange had outlawed any outside assistance like this.